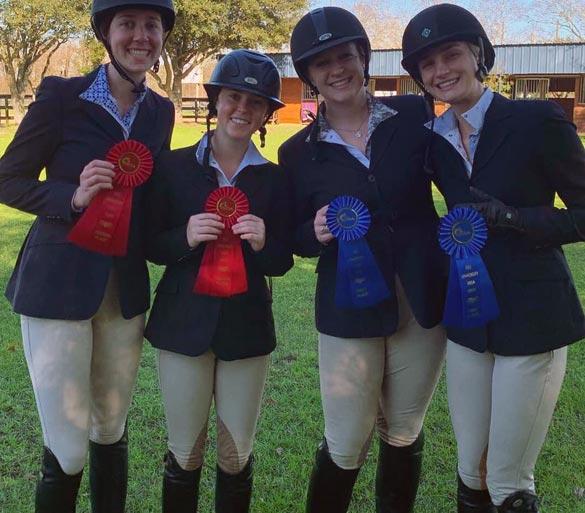 The Tulane Equestrian team competes in Zone 5, Region 4 of the Intercollegiate Horse Show Association (IHSA) against other colleges such as LSU, University of Texas, Trinity University, Texas Southern University, and Rice University. At IHSA shows, the host school supplies all horses for competitors to draw at random for each of their classes, so you do not need to own your own horse to join the team.
---
We welcome students of all different experience levels from those who have shown in Maclay classes to those who have never sat on a horse before!
---
Men and women compete with and against each other. Divisions include: Open, Intermediate, Novice, Advanced Walk-Trot-Canter, Beginner Walk-Trot-Canter, and Walk-Trot.
The team practices at Equest, only a 15-minute drive from campus, under their Coach Katiea Vargas. As a member of the team, you are expected to commit to riding at least 1 or 2 times a week in a Tulane group lesson. Lesson packages can be purchased monthly. Semester packages are also offered. Riders can either carpool here in their own cars or utilize vans that are provided by Tulane Club Sports.
To join the team, you can contact the office, or direct any questions to the Tulane Equestrian Team Club President at tulaneequestrian@gmail.com.