Facility

---
Our Riding School Barn consists of 37 stalls, 6 grooming stalls and 2 tack rooms.
Our Boarding Barn consists of 41 (12' x 12') matted stalls in an open air layout with fans in each stall.
In addition to the 9 grooming areas, there are 2 indoor wash racks with hot and cold water as well as 5 outdoor wash racks. There are private tack rooms and lockers available on a first-come first-serve basis.
We have three Rings on site:
Covered ring: 300' x 125'
Boarder Outdoor ring: 300' x 120'
Outdoor lesson ring: 240' x 140'
We have 18 outdoor paddocks for daily and nightly turnout. Please note: Equest farm does not offer field board. We do accept short-term or overnight boarders, given prior notice and provided the horse has an up-to-date shot record and a current Coggins. This is subject to availability.
---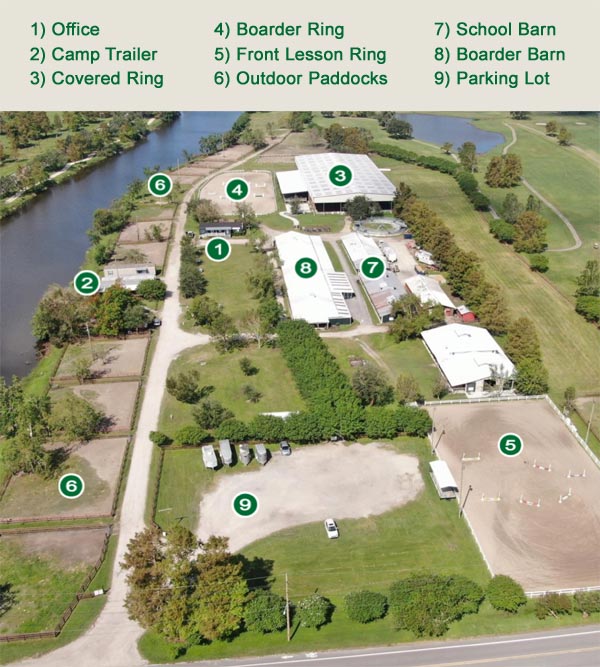 Riding School Barn
37 stalls
6 grooming stalls
2 tackrooms
Boarding Barn
41 stalls (12' x 12')
Open air layout with fans in each stall
Roof & attic fans
9 grooming areas
2 indoor wash racks with hot and cold water
5 outdoor wash racks
Private tack rooms and lockers (first come first serve basis)
Rings
Covered ring: 300' x 125'
Boarder outdoor ring: 300' x 120'
Outdoor lesson ring: 240' x 140'
Turnout
18 outdoor padocks